Carnegie's Director of Embryology Yixian Zheng is one of 15 scientists awarded a grant from the Gordon and Betty Moore Foundation to support research on symbiosis in aquatic systems.
For the past two years, Zheng and her colleagues have been working to elucidate the molecular mechanisms of endosymbiosis in the relationships between coral and jellyfish and the photosynthetic algal species that they host. She has been building on Carnegie's longstanding tradition of model organism development to begin revealing the genetics underlying the uptake and sustenance of symbiotic dinoflagellates by the soft coral species Xenia.
"I have always been attracted to problems that are important but understudied," Zheng told the foundation. "One such cell biology problem is how corals coexist with the microbes that live inside of them. It is of great interest to me because it relates to both the evolution and ecology of the system. My research brings different expertise and perspectives to explore the open questions in this field and Carnegie offers an ideal environment for exploratory science like this."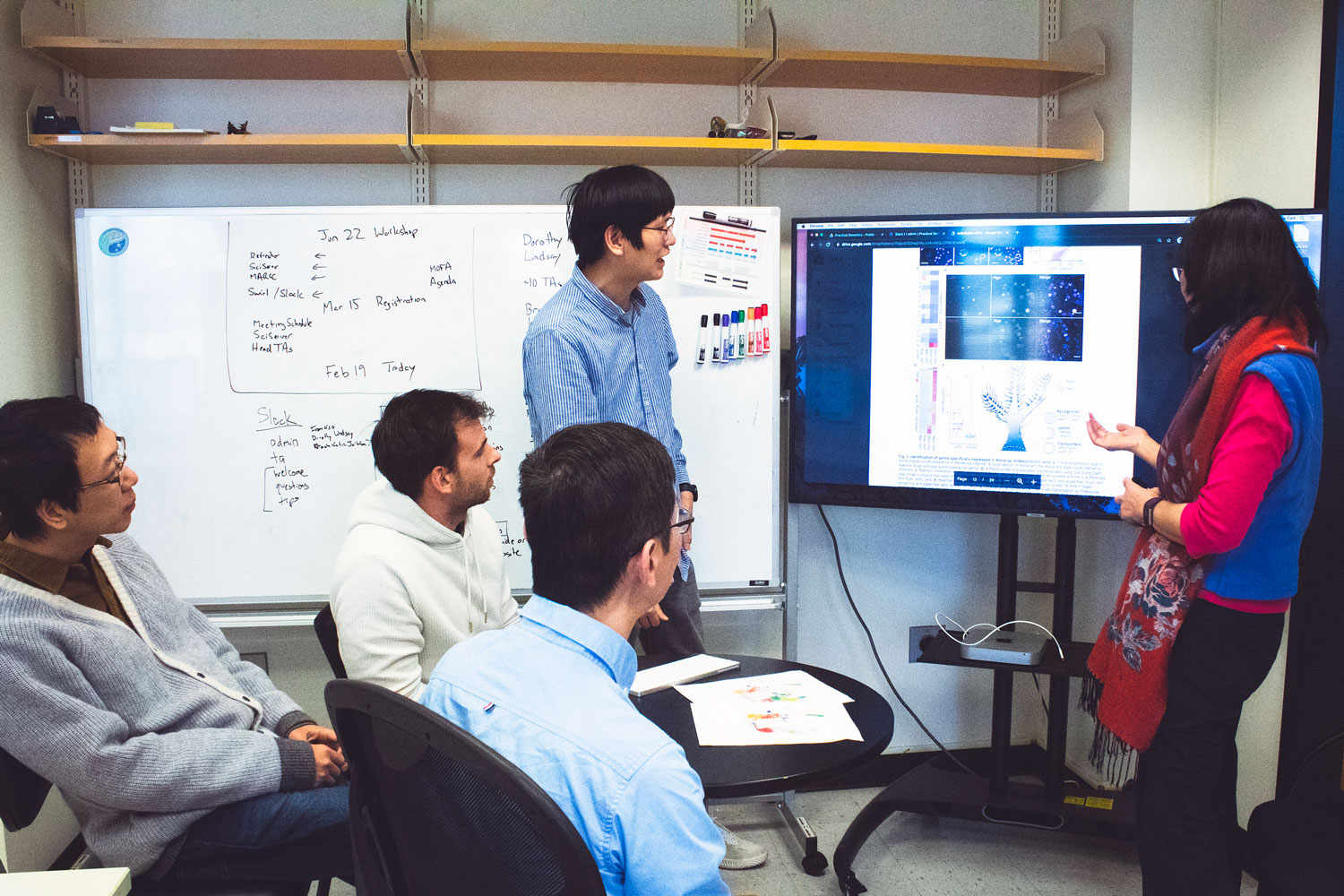 Yixian Zheng (right) and her research team (left to right: Xiaobin Zheng, John Sittmann, Chen-Ming Fan, and Minjie Hu) discuss their approach to studying coral symbiosis. Photo is courtesy of Navid Marvi.

The foundation launched its Symbiosis in Aquatic Systems Initiative last year. Current and emerging leaders in aquatic symbiosis research—as well as scientists who will apply their deep expertise from other areas of science to aquatic symbiosis—were selected from a competitive pool.
This vibrant, international cohort will receive five years of unrestricted support to pursue innovative, risky research that has high potential for significant conceptual and methodological advances in aquatic symbiosis. The collective research is expected to move the community towards a more comprehensive understanding of the origins, evolution, physiology, ecology, and natural history of aquatic symbioses.
"Yixian and her colleagues are doing important work, applying modern molecular biological techniques to an urgent ecological challenge," said Carnegie President Eric D. Isaacs. "We are so proud that the Moore Foundation has recognized the potential of Yixian's research, which exemplifies the bold, unconventional, potentially transformational science that is the hallmark of the Carnegie Institution."
"The investigator awards will serve as a flagship for the Symbiosis in Aquatic Systems Initiative and are expected to push the frontier of aquatic symbiosis research by providing stable and ample support for brilliant scientists who will take risks that drive creative work," added Sara Bender, the initiative's program officer.
The cohort's research is expected to create a scientific impact greater than the sum of the individual awards because the awardees represent a spectrum of complementary research questions, methods, technologies, and emphasis.
The investigators' collective research will:
Examine the establishment of symbiotic associations.
Illuminate the role of biophysical processes and chemistry on the formation and persistence of symbioses.
Elucidate the processes by which symbioses have shaped the tree of life.
Explore the influence of symbioses on the function and health of aquatic ecosystems.
The grant recipients will also develop and strengthen collaborations at annual gatherings.
"I am looking forward to the spark when we bring these researchers together," said the initiative's Director Jon Kaye. "While the foundation's role is to provide resources to under-funded but important areas of science, it will be up to this group of investigators to spin up new ideas and help each other make those ideas even sharper."
__________________
The Gordon and Betty Moore Foundation fosters path-breaking scientific discovery, environmental conservation, patient care improvements and preservation of the special character of the Bay Area. Visit Moore.org or follow @MooreFound.