Carnegie's Department of Embryology welcomes two new Staff Scientists, both of whom specialize in researching the symbiotic relationships between species.
Brittany Belin joined Carnegie this month from Caltech and Phillip Cleves will arrive in September from Stanford University. Although their work approaches the issue using different organisms, their investigations are important to understanding survival mechanisms in the increasingly stressful conditions caused by climate change.
Belin's postdoctoral research focused on soil bacteria called rhizobia, which form symbiotic relationships with legumes such as soybeans and alfalfa. The microbes are capable of capturing atmospheric nitrogen. In exchange for supplying this ammonia fertilizer to the root network of their symbiotic legumes, they receive sugars from the plants' photosynthetic activity.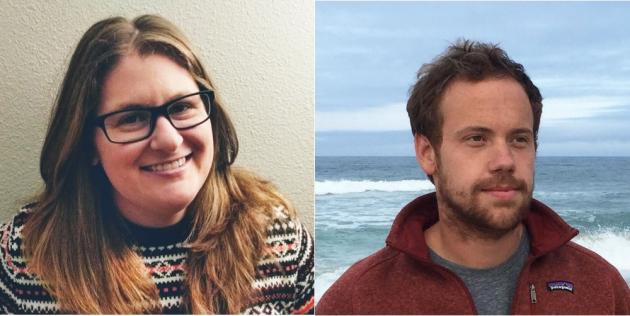 "Harnessing the functions of beneficial bacteria has the potential to transform agriculture," she said. "These bacteria act through diverse mechanisms, including converting nutrients into forms that can be more easily broken down by plants, limiting the spread of pathogens, and helping plants survive our rapidly changing climate." 
Belin received a B.S. in Biochemistry and Philosophy from the University of Notre Dame, and a Ph.D. in Biophysics from the University of California San Francisco. Both her undergraduate and doctoral theses received awards from the institutions where her degrees were granted. As a postdoc she was a Simons Foundation Fellow for the Jane Coffin Childs Foundation Memorial Fund and is a current grantee of the National Institutes of Health K99/R00 Pathway to Independence award.
Cleves' postdoctoral work involved developing new methods to probe the symbiotic relationship between corals and the dinoflagellate algae that they host. The nutrients supplied by the algae are crucial for the coral's survival, but ocean warming caused by human activity is causing a breakdown of this exchange.
The first researcher to use CRISPR/Cas9 genome-editing technology in coral, Cleves was able to reveal new aspects of the symbiotic relationship in organisms from the Great Barrier Reef. His efforts could lead to the creation of designer coral that is better able to survive warming conditions.
Cleves received a B.S. in Biology from the University of Arkansas Fayetteville, and a Ph.D. in Molecular and Cell Biology from UC Berkeley. He was awarded Barry M. Goldwater scholarship as an undergraduate, was named a National Science Foundation Graduate Research Fellowship Program recipient as a graduate student, and secured several national and international funding awards as a postdoc.
"Since its founding, our department has always sought to expand existing research pursuits and define new fields of investigation," said Director Yixian Zheng. "Brittany and Phil will be excellent additions to our recent efforts in probing the complex relationships between species in dynamic ecosystems, in which we feel we are distinctly positioned to make major breakthroughs."